No Bolt Shelving

Operational Considerations
The 'No-Bolt' shelving system is a versatile shelving type produced in either 18 or 20 gauge cold-rolled steel and is designed to keep quality high and costs low by reducing small pieces and tools from the assembly process.


Ideal for medium case and piece pick applications
Heavy Duty industrial steel shelves
Boltless shelves – special clips allow quick adjustment of shelf heights
Baked enamel finish
Typical shelf widths 36", 42" and 48"


No-Bolt Shelving From One of Our Preferred Suppliers
Space Utilization Efficiencies
The efficient design of the no-bolt shelving requires no additional floor space during assembly.
You can also easily rearrange the shelving without needing to dismantle it;
Simple, basic way of storing and organizing products;
Reconfigurable for changing storage requirements;
Improved cube utilization in high-bay applications;
Large selection of accessories available (See below).
NO BOLT SHELVING ACCESSORIES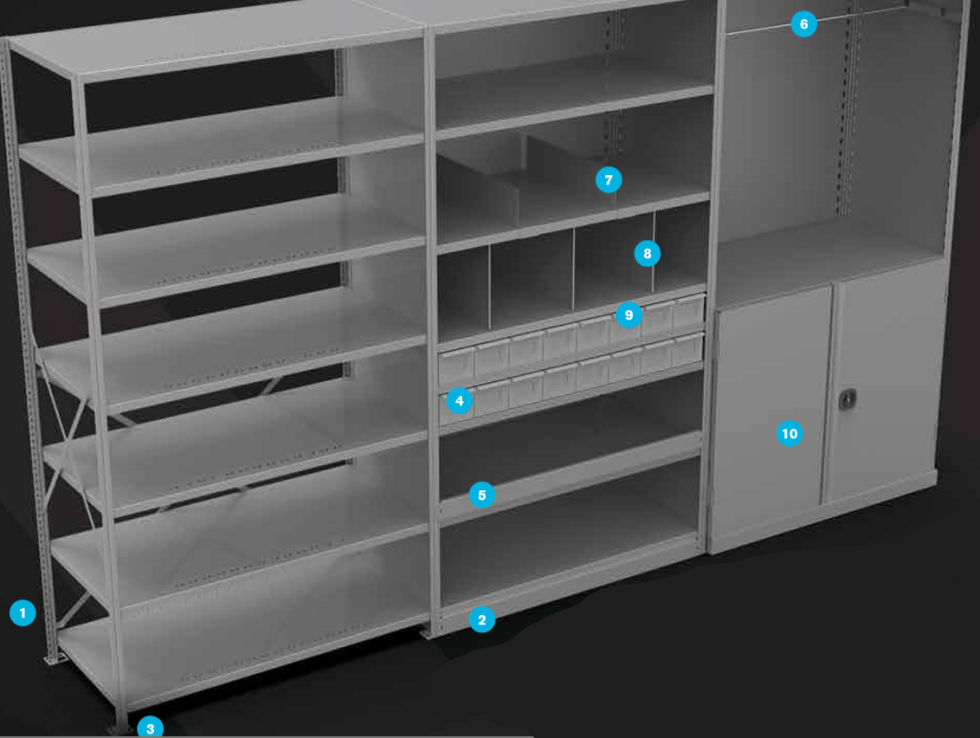 | | | | | |
| --- | --- | --- | --- | --- |
| 1. Shims | 2. Base Plates | 3. Foot Plates | 4. Shelf Boxes | 5. Bin Fronts |
| Elevate posts when flooring is not level. | Close off the bottom of the unit to stop things from rolling under. | Anchor the shelving system onto the floor. | Hold small items onto the shelves. Various sizes available. | Stop small items from falling off the front of the shelf. Various sizes available. |
| 6. Hanging Bars | 7. Sliding Dividers | 8. Dividers | 9. Label Holders | 10. Swinging Doors |
| Allow items to be suspended in the unit. Available in 36", 42" and 48" widths. | Mobile dividers that attach to the bottom of the shelf. Maximum adjustability by sliding horizontally across the shelf. | Create compartments on the shelf. Rolled front for a smooth edge. Attached with divider clips or flathead nuts and bolts. | Allow users to insert labels for easier identification of shelf contents. | Close the front of a unit with a locking mechanism and flush handle |
You May Also Like:
Contact Our No-Bolt Shelving Specialist Today
Fill out the form below to get a FREE no obligation quote from our Shelving Systems Specialists.